Services & Rates
Welcome to Woof! Pet Wellness Resort. We are a state of the art facility offering dog boarding, cat boarding, doggie daycare, pet grooming, hydrotherapy for dogs and a complete pet wellness store, all at reasonable rates.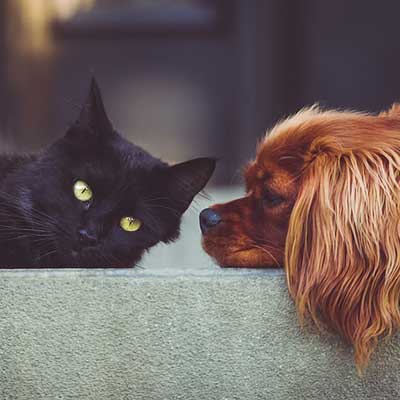 Dog Boarding & Cat Boarding
Due to their nature as denning animals, dogs in new environments feel far more secure in smaller, private spaces. We offer two sizes of condos including multi dog family sized condo's.
With our custom built indoor Kitty Condos, kitty has its own window for birdwatching, private litter, pyramid bed, cat toys and an aquarium for hours of watching pleasure.
Your pet receives ample exercise, socialization, one-on-one interaction along with proper attention to their individual needs.
Dogs
$28.50*/dog/day
$50*/2 dog in shared unit/day
$60*/3 dogs in shared unit/day
$13.50*/1-3 pm boarding p.u. 
Cats
$19*/cat/day
$35.50*/2 cats/day
$13.50*/1-3 pm boarding p.u.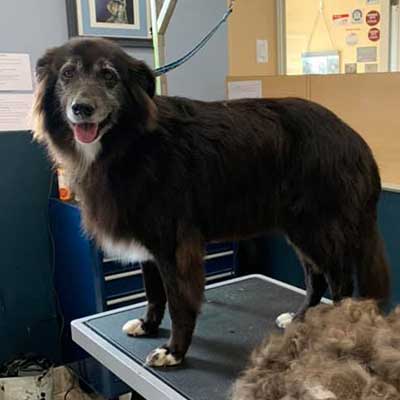 Pet Grooming
Certain breeds benefit from regular grooming especially if they are prone to matting. But it's also nice to have your pet smelling great along with improving their overall health. We can keep an eye on hot spots, skin problems or parasites.
Specialty Services Available:
Bath and brush outs, nail clipping and teeth brushing
Paw-dicures and funky fun cuts
Synergy Spa Dead Sea Products
Special occasion styling (including temporary dye jobs)
Wellness procedures (ear cleaning, specialty shampoos)
Custom shampoos
Specialty treatments (hot oil, de-skunking)
We feature a custom walk in shower for large dogs
Dematting
Small dogs $55* B&N $40
Medium dogs $75*  B&N $50
Large dogs starting at $95* B&N $60
Extra large dogs starting at $120* B&N $70
Nail trim $15*
Call for a cost estimate today!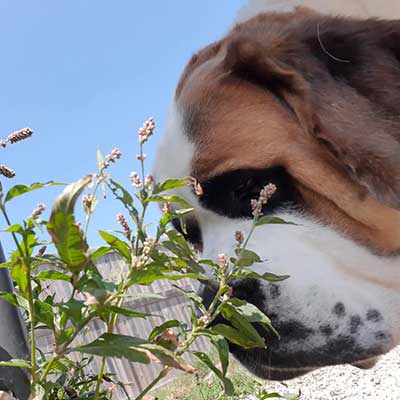 Doggie Daycare
All dogs require exercise and often don't get enough left on their own – even in a backyard. Boredom can lead to chewing, barking and an unhappy pet.
At Woof!, young dogs learn valuable skills to meet and interact with a variety of breeds and sizes.
Older or special needs dogs are monitored and exercised quietly by trained and capable caregivers.
High strung dogs have a safe outlet for their excessive energy, so you can enjoy them without the demands for attention and exercise.
Your pet's safety is our primary concern. While enjoying their fun, the dogs are supervised in secured play and exercise areas. Rest time is provided in private quarters.
$13.50*/1 dog/under 6 hrs.
$23*/2 dogs/under 6 hrs.
$20*/1 dog/over 6 hrs.
$34*/2 dog/over 6 hrs.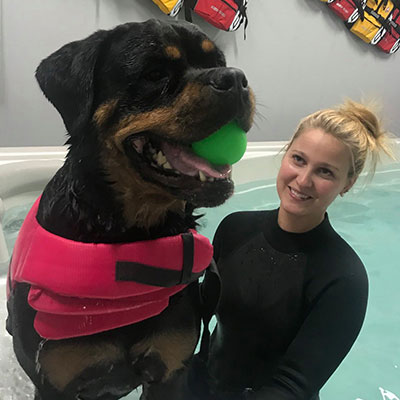 Hydrotherapy for Dogs
Simultaneously, water therapy stimulates, strengthens and relaxes the body. Water therapy may also improve balance, coordination, and increase overall energy levels, all while reducing pain and stress.
Benefits of Hydrotherapy
Water increases circulation, ideal for skin and coat.
Water can increase lymph drainage, rid the body of toxins, and improve the immune system.
Water can encourage better digestion and can promote balance and coordination.
Hydrotherapy can also help dogs who need to shed a few pounds. A great form of low-impact exercise, regular swimming in a pool can help promote weight loss and general fitness in dogs. A great solution in addition to dietary food management.
Our certified staff can provide Therapeutic Sessions for orthopaedic, neurological and physical challenges. Call today to discuss your dogs needs with our Certified Canine Hydrotherapist Practitioner.
Conditions that Benefit from Therapeutic Sessions
Orthopaedic – Injuries and disorders to the skeletal system, muscles, joints and ligaments
Neurological – Disorders of the nervous system – brain and spinal cord
Degenerative Muscle Conditions
Soft Tissue – Tendons, ligaments, fascia, skin, fibrous tissue, muscle nerves and blood vessels
Recreational Swim Rates & Packages
$20/$30/$60*/20/30/60 min
$55*/3-20 min sessions
$81*/3-30 min sessions
$153*/3-60 min sessions
Hydrotherapy Rates & Packages (1 hr)
$50*/1 session
$225*/5 sessions
$450*/10 sessions
Download the Vet Assessment Form here.
Note: all swims include a wash and dry post swim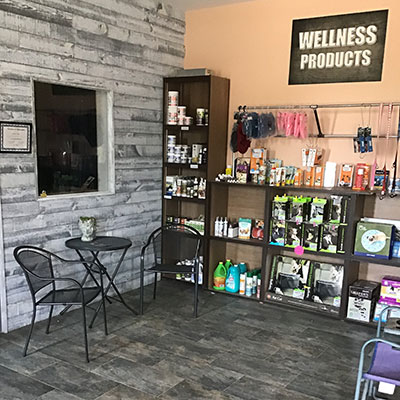 Pet Wellness Store
Woof! carries several lines of therapeutic products to help you manage your pets wellness.
Food
Forza 10 & Forza Legend Targeted Nutrition Diets are designed to specifically address chronic health issues in dogs and cats. The efficacy of these foods is amazing, and we have many local testimonials on how well it's addressed conditions from chronic ear infections to behavioural issues.
Hurraw is a Canadian sourced and manufactured, dehydrated raw food that has benefits of raw and the convenience of kibble.
Wellness
Triacta & Triacta HA – these Canadian made, water soluble formulas offer tremendous relief to pets suffering from joint issues and arthritis. Containing MSM, Glucosamine, Chondroitin and Hyaluronic Acid in the HA formula, there are none of the binders or fillers found in pill form of these supplements.
Bluestem – these Canadian dental products are our top choice for dental maintenance – available as a drinking water additive, no shock oral spray, or toothpaste.  Your pets teeth will stay clean, and their breath fresh.
Mojo's and Yappetizers/True Hemp CBD (sativia) treats, supplemental oils and tinctures – an excellent option for anxious dogs during stressful times to relax and promote a sense of wellbeing and pain management.
Our specialty is Wellness, so come in and chat with one of our experts! We'd love to find out about your pets individual needs, and help you choose the best products for you and your pet.
* HST EXTRA
Please note: Prices are subject to change.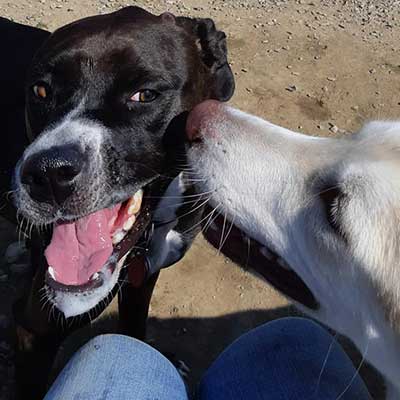 What vaccinations are required to board our pet
All pets must have proof of current rabies vaccination, titre or veterinarian excusal.
Why do we have to bring our own food?
Keeping diets consistent while pets stay with us helps to avoid digestive upsets that can cause diarrhea, vomiting or other potential problems that can result.
Do you allow pets that are fed raw diets?
Absolutely, we have refrigeration as well as a freezer for dogs staying longer term. We always carry frozen raw products, and Hurraw (dehydrated raw) products available for our clients convenience or in the event of an unexpected extended stay.
Our pet isn't fixed, can he/she still board?
Dogs that are still intact are permitted to board but may not be able to run in the community play. If your female is in heat we need to know this before check in as it may affect run assignment. Unfortunately, we can not accommodate cats that have not been neutered.
Do I need to bring bedding or toys?
Woof! is happy to provide both bedding and toys for your pet. If you wish to bring their own, we ask that you not bring any bed that can not be laundered (ie bulky oversize beds, or foam core beds). Small blankets, beds or towels and toys are permissible.*
* Please do NOT bring any bed, toy, collar or bag that you would be devastated if lost or destroyed – we work hard to make sure our guests go home with what they came with, clean and intact, but sometimes stuff happens and we are not liable for these losses.
Great service! My dog has long hair and lots of it. They do a wonderful job.

Trish


2/14/2022

My dog Kya can be pretty anxious but the staff were patient kind and sweet. Also worth noting that Woof! Pet Resort in the entire Ingersoll/Woodstock area was one of the few spots that answered the phone and gladly accepted a day of grooming appointment. Thank you, her nails look great 😁

Leah Brekelmans


7/28/2021

My dog loves it at Wood! Pet Resort. She pulls me to the door when we go to get her nails trimmed. The staff is friendly and the facility is clean.

Maria Fleet


6/23/2022

New pup getting socialized, Annie loves coming here. Sometimes doesnt want to come home. Daycare and boarding she has done both. Good seeing other dogs happy to be there as well.

Laurie McLeod


8/31/2020

Wonderful experience for my dog, for both day visits and a few nights. Highly recommend.

Carolyn Alves


2/14/2022
Recommended by vets 
We're pleased to be recommended by numerous veterinarians in the region. We belong to a number of associations and have been recognized by The Woodstock Chamber of Commerce.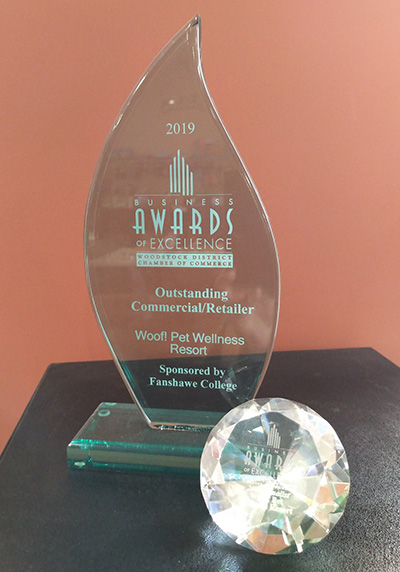 Get in Touch By Phone Or email
Taking care of your best buddy is our whole purpose. If there's anything that we haven't covered here, reach out. We would love to hear from you!
Hours
Mon-Fri: 9:30am - 6pm
Sat: 9:30am - 12pm & 5-6pm
Sun: 10am-12pm & 5-6pm