Therapies
(By veterinary referral only)
Pre/post surgical/injury pain relief and recovery.
Routine weight control, regular exercise & body maintenance.
Geriatric no stress exercise, arthritic pain management.
Spa therapy centre to fit your dog's needs.
Year round aqua-fit for your best friend.
Initial general assessment: $150* includes a 75 minute intake; full health analysis, gait analysis, range of motion and hands on assessment and report made of what recommendations we have to your veterinarian.
**We customize each program plan along side your veterinary care professionals to suit your dogs individual needs.
** Please note that the services offered are not a substitute for Veterinary Care.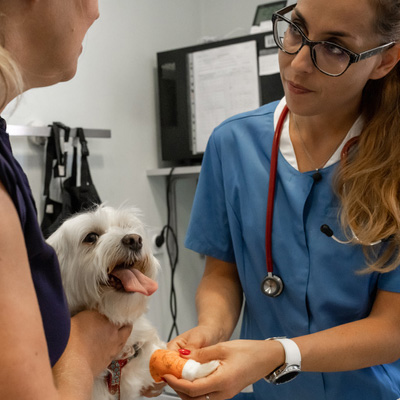 KINESIOLOGY TAPING
Kinesiology tape can be used alone or alongside other treatments in canine therapy. It can be used to reduce or control pain, manage swelling and edema, increase range of motion and muscle function and maintain a level of functionality and comfort for the pet throughout the rehabilitation process.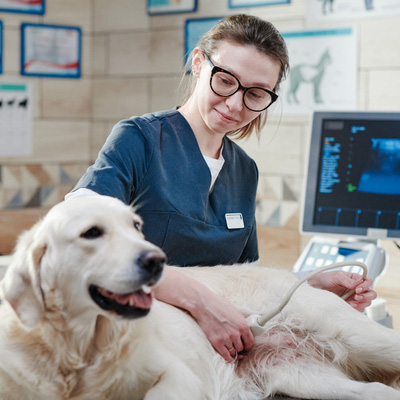 THERAPEUTIC ULTRASOUND
Sound waves are used to provide deep heating and energy into the body to help the soft tissue muscle to expand and contract. It helps improve restrictive range of motion, pain and muscle spasm, and aids wound healing. It increases cellular activity by increasing circulation in damaged muscles, tendons, ligaments and increase connective tissue mobility. Ultrasound with stretching exercises can help elongate muscles, and reduce scar tissue restriction.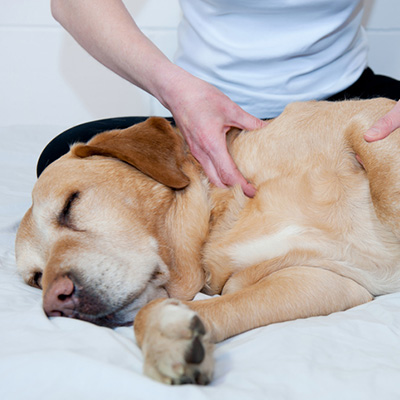 Massage
Massage is a medication free and non-invasive procedure that helps dogs to increase range of motion, reset proprioception, strengthen and re-stabilize joints while not adding stress to weight bearing joints and limbs.
During recovery (injury/ surgery), it allows your dog to relax and loosen tight muscles, resulting in increased circulation and blood flow, giving pain relief, allowing the body to repair the damage done, and speed up recovery. Once your dog is relaxed, the muscles become soft and less tense to allow healing to occur.
$50.00* per ½ hour session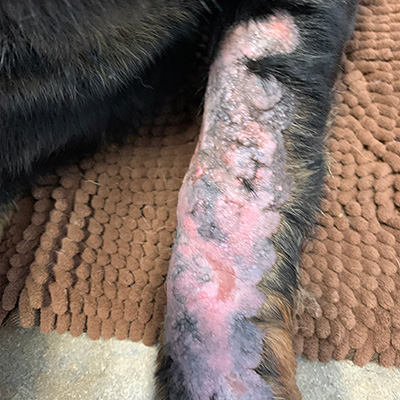 LASER THERAPY (Photo-bio-stimulation)
Laser therapy is a non-invasive therapy that can be used in combination with other treatments; pharmacological or non-pharmacological that has no reported side effects when used properly. Therapeutic laser therapy uses light energy which is cold, or low level to work its magic. Light used at specific frequencies causes physiological changes in cells and bioprocesses to accelerate wound and joint healing, and to promote muscle regeneration. In addition, it helps to reduce the formation of scar tissue, improves nerve function and in some cases nerve regeneration. It can also help those pets in pain that have heart, kidney or liver disease that prohibits the use of traditional therapies such as prescription medications.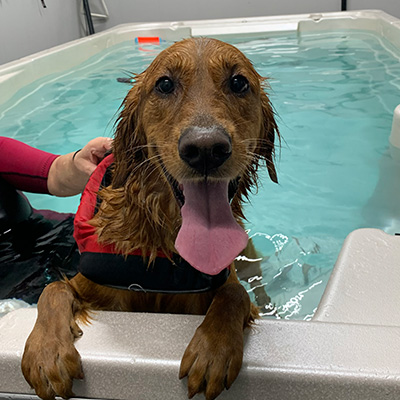 Pool Hydrotherapy (Aquatic Therapy)
Swimming is a low impact, high resistance therapy that is good for body conditioning and weight loss in dogs. When used in injury rehabilitation, it allows a workout without the stress and impact to weight bearing joints and limbs. The weight bearing forces are decreased, because the dog is weightless due to hydrostatic pressure of the water, providing more stability to the joints for a more productive work out. Swimming can efficiently improve strength, muscular endurance, cardio-respiratory endurance, range of motion, agility, psychological well-being with minimizing pain.
It is an excellent form of exercise for weight loss and older pets. It helps keep the older pet active preventing weight bearing injuries, and relieving arthritis.
Recreational swim: $1.25*/min.
Pool must be skimmed after session or additional charges will be applied.
Recreational swim with staff member: $1.50*/min., 10 min. minimum
Therapeutic swim: $2*/ min
Contrast Hydrotherapy: $25* per treatment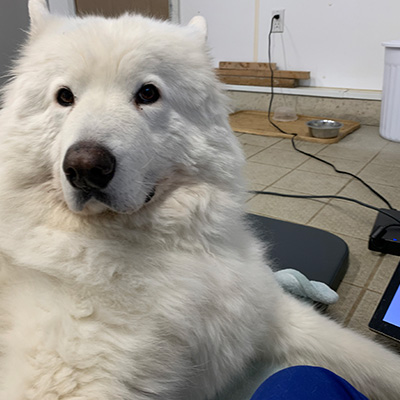 PULSED ELECTRO-MAGNETIC FIELD THERAPY (PEMF)
PEMF Therapy is a safe non-invasive way that improves quality of life for older dogs, dogs with chronic pain and inflammation, and even improves the life of young healthy dogs to help maintain wellness. PEMF therapy sends electro-magnetic pulses through the fur, deep into the cells of the body. It doesn't hurt and dogs LOVE it!! The pulses are soothing for dogs and they are naturally drawn to the mats and the coils. It has been approved in Canada to be used for treatment of anxiety and depression in humans, and it works the same on dogs too.
It is commonly used in dogs to treat pain, arthritis, swelling and inflammation, stiffness, bone injuries and wounds. It relieves pain and discomfort in older dogs, and has been shown to provide lasting, rather than temporary relief of arthritis symptoms. It has been used as an alternative to medicating or reducing frequency of medicating. In healthy dogs, the electro-magnetic pulse and frequencies promotes cellular regeneration and improves cell function. It increases circulation, increases cell metabolism, energy production and increases endurance.
Initial Session: $30*/10 minutes (acclimitize)
Consecutive Sessions: $55*/20 minute session
* HST EXTRA
Please note: Prices are subject to change.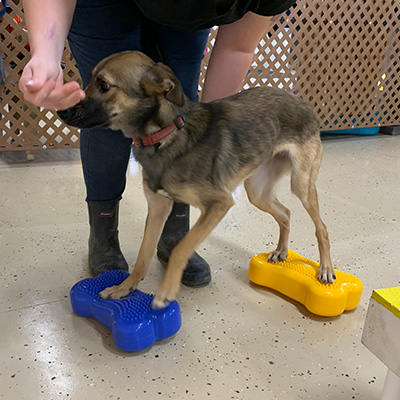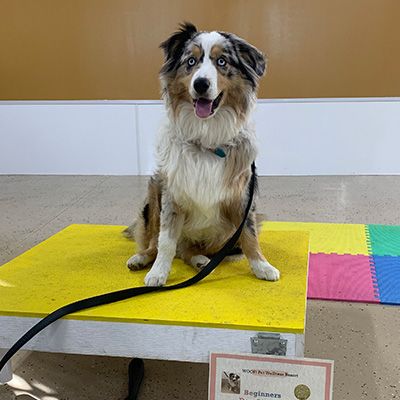 Passive Range of motion and flexion/extension exercise
Balance exercises using soft foam, or bidirectional balance board, and wobble board, for weight bearing
Cavaletti rails, weave poles, stairs and incline walking for muscle strengthening
Weighted exercise on affected limbs for preferential strengthening
Behaviour Modification and Obedience Classes
We offer obedience training using a positive approach, unique altering methods to cater to the owner, pet and environment in which both pet and owner live. Instead of training the dog, we work on training owners on how to train the dog as well as establishing clear lines of communication between dog and owner.
• Private and group sessions for beginner, intermediate, and agility dogs.
• Behaviour modification- Pets with problems: No problem is too small! Such as:
– Separation Anxiety
– Fear/Aggressive behaviour
– Excessive barking
– Improper elimination
– Desensitization of particular fears
• Breed and Pet selection
• Palliative Care/counselling
Forza 10- Treating the pet from the inside out using limited ingredient diets with nutraceuticals, phytonutrients and
anti-biotic free proteins. Creation of specific formulas based on medicinal herbs for specific conditions backed with the scientific research. Pet food that induces remission of symptoms in as little as 5 days in some cases.
Other professional resources offered
Nutritional counselling and weight-loss management
Allergy testing: (DNA-Kit for sale) non-invasive testing for over 300 allergens
CBD (hemp) use in pets
First Aid
Nail trimming/grinding
School and pet owner seminars on pet care, nutrition, and general safety for all ages.
Absolutely amazing! Best kennel around, staff are so friendly, and help when you have questions or concerns! Deffinitly the place to board your dog for longer then a day or day care!! Thank you so much for the amazing customer service and taking care of our dog so good! 🙂

Justin Stewart


July 23, 2023

We've left our two dogs here for daycare and overnight. Our dogs come home happy and healthy. We can have peace of mind leaving our babies in their care. They followed all our care instructions one of my dog has anxiety she was given her medication and food as prescribed. Their prices are reasonable as well. Thank you Woof! For looking after our babies ❤️

Shivani Prasada


August 24, 2023
Recommended by vets 
We're pleased to be recommended by numerous veterinarians in the region. We belong to a number of associations and have been recognized by The Woodstock Chamber of Commerce.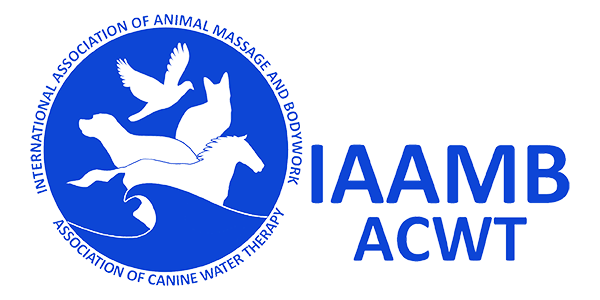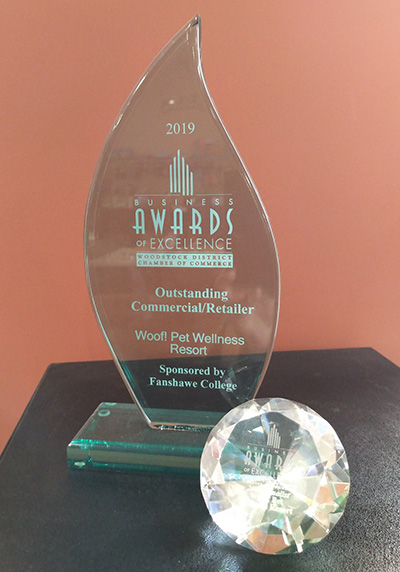 Get in Touch By Phone Or email
Taking care of your best buddy is our whole purpose. If there's anything that we haven't covered here, reach out. We would love to hear from you!
Hours
Mon-Fri: 9:30am - 6pm
Sat: 9:30am - 12pm & 5-6pm
Sun: 10am-12pm & 5-6pm